Brief History of Central UMC
THE MISSION OF THE CHURCH IS TO MAKE DISCIPLES OF JESUS CHRIST FOR THE TRANSFORMATION OF THE WORLD.
On Sunday, November 16, 1919, in a rented room in the Roger's Building on Arnold Avenue, the Reverend E.R. Craig, pastor of the First Methodist Episcopal Church of Point Pleasant Borough, preached the first sermon for a new congregation. The next two years marked the organization of the new congregation.
The Rev. L.S. Moore became the pastor in 1920 and, in January of 1921, an option was taken on a lot on Arnold Avenue at a cost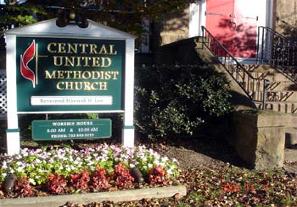 of $950. A campaign was then begun to raise money for a building. The cornerstone for the new church was laid on August 14, 1921. To raise funds cement blocks were sold for 10 cents a piece. A note was taken out at the bank for $1,000 and a mortgage of $3,000 was taken from the Firemen's Relief Organization.
By 1923 construction of the church was finally complete.  The front of the building was finished, furniture was purchased, a pipe organ was installed, the Sunday School room was ready and kitchen became operational.
It's been more than 100 years, and we have seen so many changes…but our mission is still the same!
VISION STATEMENT: THIS CHURCH IS A BEACON OF LOVE AND FRIENDSHIP IN THE NAME OF JESUS CHRIST.